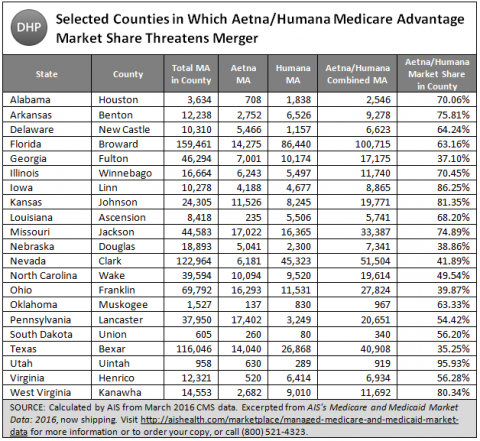 According to the Justice Dept. complaint, Aetna and Humana must divest Medicare Advantage plans in a total of 364 counties in 21 states in order to meet antitrust requirements for their pending merger to proceed (see www.justice.gov/opa/file/877881/download, p. 35, for a full list of counties).
Contingent upon the merger going through, the two insurers have agreed to sell these plans to Molina Healthcare, which currently covers 26,199 MA lives in five of the states flagged by the Justice Dept. — Florida, Illinois, Ohio, Texas and Utah.
This table examines the counties in each state highlighted by the DOJ with the highest combined Aetna/Humana market share, representing more than 400,000 Medicare Advantage lives that may potentially be acquired by Molina.
© 2016 by Atlantic Information Services, Inc.